One of the biggest concerns our orthopedic client-providers initially express is whether their patients will be able to understand and successfully use telehealth technology. Some frequently asked questions include:
How hard is it, really, to use an application like OrthoLive?
How tech-savvy should the patient really be?
Is it possible that any cell phone user could handle a telemedicine visit?
What about older patients?
Introducing telehealth to your orthopedic practice is a big step. That's exactly why we designed an application that takes the hassle out of participating in a telehealth visit. Once patients try telehealth, they're hooked. How do we know? We survey for customer satisfaction at the end of the telehealth visit. 87% of patients would use the OrthoLive app again, giving it 4.7 out of 7 stars for ease-of-use.
This blog will walk your practice through the step-by-step patient experience during an OrthoLive telehealth visit.
OrthoLive's Telehealth Patient Experience
Step One: Patient Registration
1. The patient receives a text with a link to download the OrthoLive app from the Apple app or Google Play store.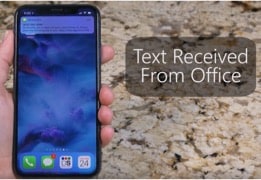 2. The link takes them to a secure downloadable app. The app is free for their download and one click of a button gets them started. The app homepage is even branded to your practice.

3. The patient will receive a one-time authentication in the form of a text in a four-digit code that they use to confirm their identity, log in and set up an account.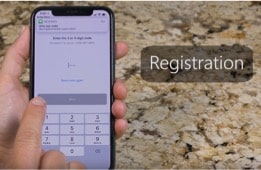 Step Two: Patient Billing
4. The patient will set up a billing account with standard information like an address along with setting up a secure password. This is a simple, intuitive process – the app is smart enough to suggest billing addresses nearby.
5. The next screen asks for insurance or other payment information. Your patients will have the option of simply scanning their insurance card or punching in their enrollment info.
Scanning is by far the easiest, of course, and if the patient knows how to take a picture on their phone, they're good to go!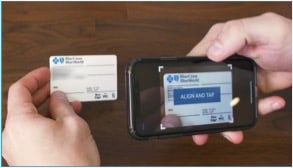 There's even a self-pay option for the uninsured or to cover co-pays.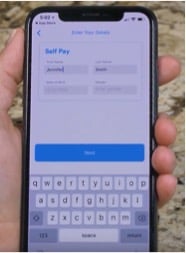 Step Three: HIPAA and Privacy
6. Once payment info is entered the patient is taken to the privacy screen, which shares crucial information on HIPAA compliance and how their data is shared with their doctor. These can be customized by practice. After reading they simply sign with one finger.
Step Four: The Doctor is In
7. Enabling notifications allows two-way communication between provider and patient. The patient will receive notification when the doctor is ready to initiate the video visit.
8. The smartphone can text directly back to confirm the video conference and start the real-time examination with a tap. The app allows patients to send documents, and doctors to send visit summaries. It automates follow-up questions and patient reminders.
It should be noted that the application views well on a desktop or tablet or any type of smartphone. The app allows flip screen viewing for real-time injury reviews, too. After the visit, the physician can easily upload a treatment plan to the patient.
What Do Patients Say About Telehealth?
What's most interesting about the telehealth visit is that the providers tend to drag their feet more than their patients. While this has generally been our experience, there are some studies that back up the anecdotal evidence.
The Advisory Board (which recently joined forces with Optum) released a new study late last year that showed an increasing demand for telehealth services. The research, called The Virtual Visits Consumer Choice Survey, studied the attitudes and experiences of 5,000 patients from around the country. They found that 77% of their subjects would be very willing to conduct a physician visit via telehealth but only 19% actually had the opportunity. While hospitals and physicians seem to be lagging behind demand, it is expected that virtually every large American employer will begin offering a telehealth program to their employees this year. Employers are facing steep increases in their insurance premiums and like the cost-cutting that telehealth can offer. Too, the technology cuts down on employee absenteeism from sick time, potentially improving productivity.
Patient Engagement HIT suggests an interesting idea, chiefly, that "Patients want their providers to adapt to the digital economy and to offer more convenient care as consumerism continues to grip the industry." The article suggested that traditional patient visits are geared more toward doctor convenience than for the patient. Today, patients are saying they will switch providers for telehealth, citing they simply do not have time to travel to a medical practice for routine care. The Advisory Board study said these patients prefer a virtual visit for:
Pre-surgical consults.
Simple post-surgical rechecks.
E-prescribing.
Chronic disease management check-ins.
The American Telemedicine Association suggests that telehealth is becoming part of the mainstream and that the technology offers a standard of care that should be replicated across the country.
While this may be great for the millennial, a generation that has grown up with digital devices, what about elderly patients, some of the most vulnerable in your practice?
The Chicago Tribune just published an article that appears to discount many of these concerns. They cite statistics that show close to 9 of 10 adults over the age of 40 say they would be comfortable with telehealth. Their two biggest concerns are that their data stays private and that the visit is just as high quality as in-person treatment. They point out one of the concerns driving telehealth adoption this year:
For seniors with chronic illnesses or mobility problems that make simply
reaching a doctor's office an ordeal, telehealth could be more than a convenience.
The graying population is raising serious questions about how the nation
will provide enough quality long-term care.
Healthcare IT points out a startling statistic that all orthopedic providers – and all physicians should consider: 50 million U.S. healthcare consumers would switch providers in order to have access to telehealth. In 2015 that number was just 17 million.
Why the big impetus toward telehealth? Patients want convenience and, just like doctors, a way to cut their healthcare costs. Telehealth provides both.
OrthoLive offers patients and physicians a way to work together during a virtual visit to improve access to care while cutting costs. Why not try the application to see just how easy and effective the OrthoLive telemedicine visit can be? Contact us today for a complimentary demo of our product.