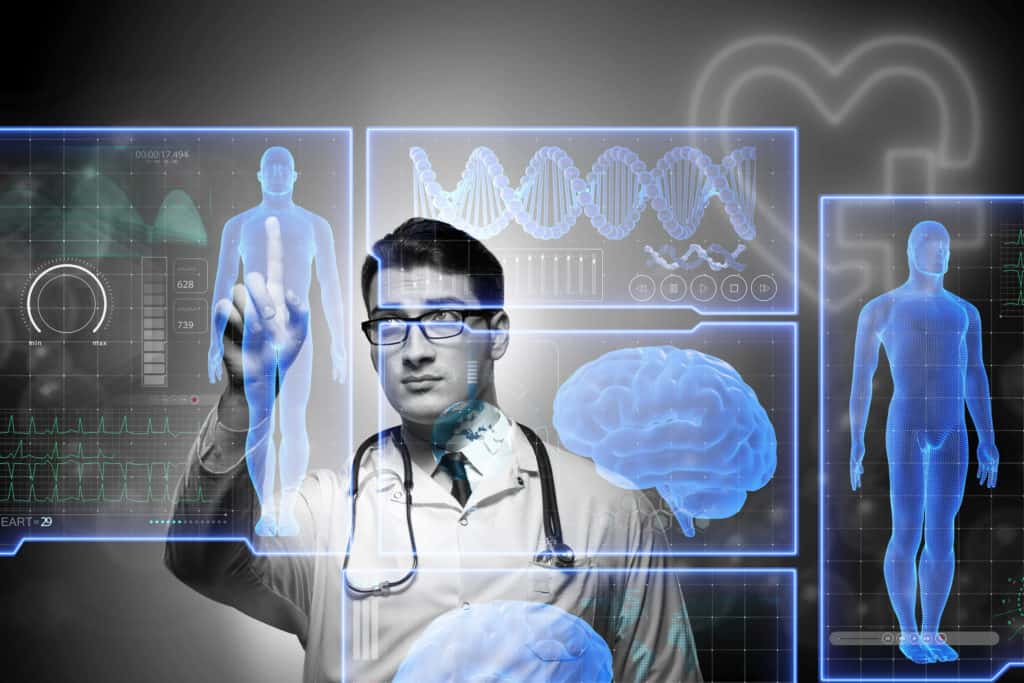 Telehealth is fueled by digital technologies, which allows us to reimagine the physician visit as a house call without the travel. The idea of the virtual visit has been around for decades, and telemedicine has been deployed across specialties and service lines, from primary care to radiology, cardiology to orthopedics.
Telehealth lends itself well to both the primary care and specialist, allowing them to further their reach, treating patients wherever there is an Internet connection. Telehealth platforms have traditionally launched from a health system because they typically have the overhead to purchase large equipment kiosks and sophisticated digital technology.
Today, telehealth applications are software-as-a-service (SaaS) and as close as the smartphone a doctor – and their patient – keep in their pocket or purse. Today's telehealth platforms no longer require big upfront overhead costs but are part of monthly subscription packages that are as secure and HIPAA-compliant as they are affordable.
Let's look at our top 10 benefits telehealth applications patients and doctors. How can these new SaaS models be a game changer for clinicians seeking new ways to serve patients?
10 Pros of Telehealth
1. Advances new business models
Telehealth as a business model is shifting the paradigm by advancing consumer-based care. An article in mHealthIntelligence says, "Specialists are now finding that they can launch their own telehealth platform to consumers, offering their services online much like a banker, real estate agent or other business person." With telehealth, clinicians can extend their patient base beyond brick-and-mortar facilities, extending hours, and creating new and more convenient models for their patients.
2. Improves patient engagement with remote monitoring
The increasing role of consumerism and value-based reimbursement in healthcare has led hospitals and health systems to emphasize new ways of interacting with their patients to engage them in self-care. Treating patients proactively requires clinicians to teach patients how to care for themselves between clinical visits. With an increase in chronic health conditions, using telehealth for remote monitoring is just one way that medical providers can improve outcomes while still cutting costs. Today, telehealth is being used to report patient metrics from the comfort of the patient's own home, while remote teams act as coach and counselor as they engage patients in their own journey toward health.
3. Expands access to care and reaches more patients
We know that there is an increasing physician shortage; telehealth can help stretch our provider networks in new ways to expand access to care. Telehealth can be used to reach patients in rural areas and outside the normal care delivery systems. The tool can be used for midlevel patient education as well as physician diagnosis, reaching a variety of people in new ways.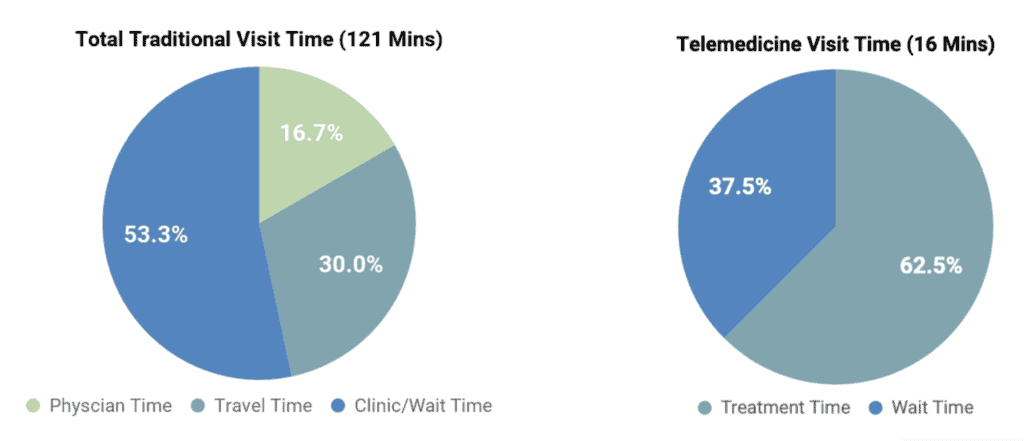 4. Improves clinical workflows and increases practice efficiency
Telehealth can increase clinical workflow efficiency. It can serve as the conduit for quicker prioritization of care delivery, triaging each case and improving communication by capturing, storing, and using patient data for better medical decision-making. The Medical Group Management Association (MGMA) reports that telehealth is a feature of some of the best performing practices in our nation. These tools can help facilitate performance improvements including increasing patient satisfaction scores.

5. Increases practice revenue
In addition to reducing overhead costs per visit, telehealth is less time-consuming, both for the patient and provider. Telehealth can allow physicians to bill for uncompensated phone calls while also extending hours to capture more billable time. Telehealth cuts down on no-shows and can improve the efficiency of a practice. Telehealth can also provide a competitive advantage, attracting and retaining more patients with new models of care.
6. Reduces practice overhead
Unlike expensive hospital systems, SaaS telehealth applications are low cost to implement. But the cost of a telehealth visit is much less than traditional on-site visits. Typically, the average cost of an emergency room visit is $1,734 and the average cost of an on-site doctor's office visit is $146. Conversely, a telehealth visit is only $79 on average. The University of Pittsburg Medical Center (UPMC) says they save $86.64 every time an online visit replaces an onsite visit.
7. Cuts patient costs
Our patients spend a lot of money and time seeking healthcare. With a telehealth visit, the doctor comes to the patient on their phone, laptop, or another digital device. Imagine how the costs of travel, parking, childcare, and taking time off work can accumulate. The additional effort that it takes to travel to a remote doctor's facility can be stressful, but it is the costs that can really add up. In some rural regions, patients must travel overnight to reach specialists in more urban regions. Oregon Health and Science University saved their patients $6.4 million annually in travel costs by implementing a telemedicine program. One UPMC patient survey showed that 40% of their patients said if they did not have access to a virtual visit, they would skip treatment because of the burden of excessive travel to their facilities.
8. Improves healthcare quality
The Agency for Healthcare Research and Quality (AHRQ) says that telehealth improves healthcare quality, particularly in rural settings. That's because the technology can improve service delivery and treatment of acute conditions. Telehealth is also being used to divert unnecessary ER visits. It also improves the convenience of receiving treatment by allowing patients to receive care without traveling long distances.
9. Reduces patient no-shows
Earlier this year, Becker's released a case study on a Nebraska Children's Hospital that struggled with frequent no-shows, in part, because rural patients drove for many miles to receive care at their state-of-the-art facility. No shows had become a significant revenue cost center for the organization and the quality of care was being compromised, particularly on follow-up visits. When they expanded treatment with telehealth, the targeted service line improved no-show rates by 50%.
10. Improves patient satisfaction
Patient satisfaction is a key performance indicator of telehealth. 87% of the patients using the OrthoLive telehealth application say they would use it again. A patient survey from the nationwide chain of CVS Minute Clinics reported up to a 99% satisfaction score with their telehealth visit. These results have been mirrored in clinical facilities from the Cleveland Clinic, the VA, children's hospitals, and more.
Telehealth is Growing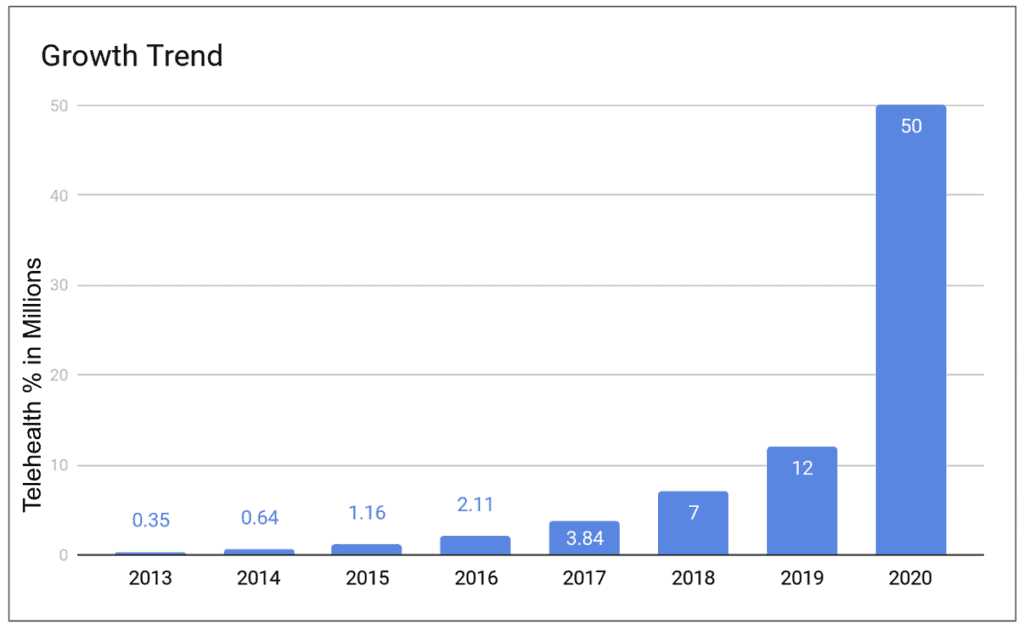 By the end of 2018, seven million Americans will use telehealth technology. Just five years ago, that number stood at 350,000. OrthoLive is leading the push toward the use of a technology whose benefits have been proven for specialists and primary care providers. Talk to our team about how telehealth can benefit your practice.
How and Why Use Telemedicine?
Why have these providers gratefully accepted what some would consider a "disruptive" technology? The answer is the same, whether it's a more effective medication recently approved by the FDA, a revised orthopedic practice designed to decrease inpatient stays, or virtual visits; these are necessary practice improvements at a time when every visit should add "value." Becker's Spine Review notes that one of the biggest trends hitting orthopedic practices in the coming years will be declining reimbursement. Telemedicine applications allow orthopedists to streamline services in a way that benefits both the quality of patient care and the overhead of their practice.
When viewed in this light, adoption of a cloud-based subscription telemedicine application designed especially for the orthopedic practice not only makes sense – it's a market-driven necessity.
Now that you can visualize the use of telemedicine in your practice, isn't it time to see an OrthoLive demo in action? Contact us today.