Telemedicine, which uses the Internet to connect patients and providers, is growing. Though the terms e-health, m-health, and telehealth are often interchanged for telemedicine, the deliverable is always the connection and interaction between patient and caregiver in a digital medium. While telemedicine is an established service, the popularity of the tool is still growing.
What is the future of telemedicine? What hurdles remain to thwart widespread adoption? How has the technology evolved and what forces are pushing the usage of these tools to supplement and sometimes replace the traditional on-site clinical visit?
Telemedicine Past and Present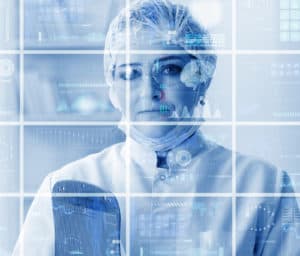 "And leveraging video, instead of a phone call, is proven to increase patient engagement and result in a stronger, more personal connection between patient and provider."
HIT Consultant
Telemedicine has been used to improve patient outcomes for more than 50-years. Transmission of digital and video imagery, or store-and-forward telehealth, has been a standard of radiologists since the 1980s. But widespread access to broadband has enabled clinicians to offer video consults to their patients as a regular part of their practice. By 2016, more than 60% of healthcare providers offered their patients some form of virtual interaction for services. By 2017, that number had risen to 76% — and it shows no signs of slowing down.
The Advisory Board reports medical claims for telehealth services increased by 624% from 2014 to 2018. 74% of our patients express comfort with the idea of connecting with their doctor by phone, text, or video conference. Telehealth is projected to be a $13 billion industry by 2023.
Why is this service, which disrupts the recognized sanctity of the doctor-patient relationship, growing so quickly? How is telemedicine meeting the needs of patients in today's healthcare continuum?
Why Telemedicine Has a Future in Healthcare
"As such, the future of healthcare is telemedicine. The obstacles are large, but we'll soon be over them. The benefits are too great, and the public expects it."
Today, the US healthcare system is experiencing the perfect storm of external and internal care delivery challenges:
Declining reimbursement.
Rising care delivery costs.
Provider shortages.
Declining health outcomes.
An influx of patients that live longer with chronic diseases.
The increase of consumerism in healthcare.
Increasing competition.
Most of these challenges can be mitigated by telehealth. Telehealth can:
Increase access to healthcare.
Remote patients don't have to travel for treatment. Instead, the doctor will come to them in a virtual visit.
Rural hospitals can have video consults with specialty providers.
Chronically ill patients can receive daily monitoring in the comfort of their homes.
Improve healthcare outcomes.
Increase the monitoring of chronic conditions.
Reduce no-shows. Patients will be less likely to skip follow-up or routine preventative treatment when they don't have to travel for care.
Improve mortality, reduce complications, cut hospital stays, and readmissions.
Lower healthcare costs.
Reduce readmissions, ER visits, and patient transfers.
Nursing and doctor shortages can be mitigated with telehealth. But it should be noted that the benefits of telehealth are not just on the clinical side; the patients we care for are also experiencing their own challenges that telemedicine can rectify.
More than 50% of Americans have at least one chronic illness. There are also 59 million Americans that live in Health Professional Shortage Areas (HPSAs), which are primarily rural areas that lack access to primary or specialty care providers.
But our patients seem to have less time for healthcare these days. It's not unusual for patients to no-show, when the clinical visit doesn't fit their hectic lifestyle. Telemedicine allows patients to connect with their clinical providers, even if they can't physically get to the doctor's office.
It seems clear that the benefits far outweigh any negatives found in the use of telemedicine today. But if this is true, why do the studies show that 82% of consumers still haven't used telemedicine? What are the barriers impeding what seems to be a bright future for the use of telemedicine in healthcare?
Barriers to Widespread Telemedicine Adoption
The first barrier to widespread telehealth adoption is the simple fact that many consumers aren't aware they even have this option with their doctor. Patients are uncertain if they're insurance will pay for the visit.
The other obstacle is the reluctance some clinical providers express about changing how they deliver care.
Reimbursement remains an issue. The American Hospital Association (AHA) says that Medicare still generally limits payments for telehealth services, as do some payers. Although that appears to be changing, progress is slow. Almost every state Medicaid program offers some type of telehealth coverage, they, like Medicare, limit payment by originating site, type of illness, or in other ways. These are incremental steps that hamper the widespread rollout of these services.
Cross-state licensure is also a problem, along with credentialing. Other issues include data privacy and security as well as medical malpractice and professional liability issues. Finally, even having access to the Internet is an issue for poor and rural patients. These patients are the most vulnerable, with poorer health outcomes than urban patients. They are also generally poorer and face higher costs associated with traveling to see a clinical provider.
These challenges must be overcome before widespread telehealth usage becomes a fixture in the American healthcare landscape.
"Telehealth is an industry that's full of promise. As a start, it can potentially bring medical care to people who would not otherwise have access to it."
Health IT Outcomes
The future widespread adoption of telehealth is now acknowledged to be a certainty. This statement should not create panic in clinical teams weary of one more technology fad. In truth, telehealth was never intended to replace the traditional on-site clinical visit. Instead, telemedicine should be used as one more clinical tool in the clinician's tool belt, with the ultimate aim of better care for our patients and increased operational efficiencies.
However, in the future, practices that fail to adopt telehealth will lose patients to their competitors that offer this option. That's why OrthoLive developed a telemedicine application designed exclusively for the orthopedic provider. Our HIPAA-compliant, customizable application can help your practice begin to experience the benefits of telehealth. Talk to our team about our service today.