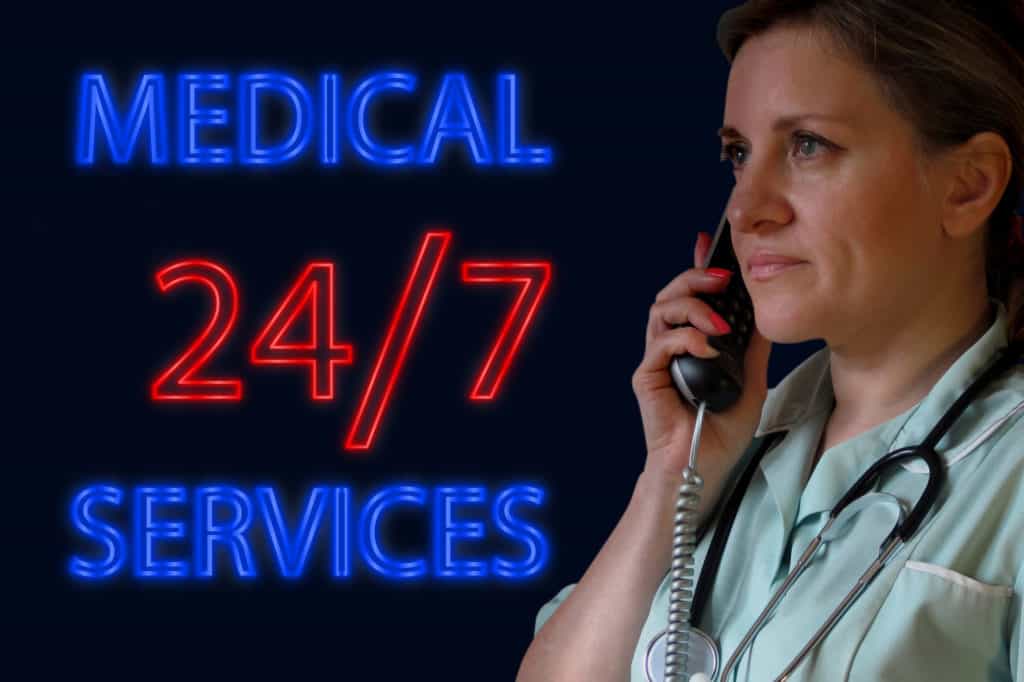 Whether your work in a rural ER or an urban medical practice, call coverage is one of those must-have services we all provide for our patients. But in an era of declining reimbursements and increasing stress, healthcare providers are seeking new ways to provide on-call services that are more efficient, less costly, and more humane for the doctors and mid-levels that provide the service. Using telemedicine to provide patient on-call is one of the best ways providers can respond to patient needs while still securing reimbursement and cutting costs.
Traditional On-Call Challenges
Spending a weekend or evening on-call is a typical challenge for most physicians. KevinMD says, "Taking call is the worst thing about being a doctor." While some clinicians would debate this statement, on-call is certainly a top stressor that starts in residency and potentially, won't end until requirement. From simple calls to clarify medication to the evening or early morning ER visit, this part of the job rarely ranks as a top benefit of working in the medical profession.
Doctors used to provide call coverage as payback for hospital privileges. Many saw it as a way to grow their private practices. With the passage of EMTALA and other state laws in the 80s, and the growth of hospitalists and large multi-specialty groups, the appeal of on-call – if there ever was one – diminished.
Some of the factors today that negatively affect traditional on-call services include:
A growth in emergency department volumes.
An increase in the uninsured.
Declining physician reimbursement.
Increased liability.
These factors have contributed to fewer doctors being willing to volunteer for on-call. While most hospitals offer some sort of overtime pay for providing the service, many have cut back on this perk or removed it entirely.
Other hospitals suggest that on-call is one of the requirements for full-time employment of the physicians. Hospitalists can lessen the burden but some organizations eliminate the on-call requirement to sweeten the recruiting offer and then supplement on call with costly per diem coverage.
Still, others have a complex patchwork of call coverage and payment structures built into their service lines. It's a costly house of cards that will likely tremble as the physician shortages expected by 2025 will blow through the profession. MedPage Today describes the situation in this way:
"Call compensation may address multiple variables, and methodologies can range from being a fairly simple hourly rate or annual stipend to a more complex arrangement addressing time and additional subsidies for uninsured patients, retention of professional fees, and restricted or unrestricted call coverage."
We also recognize that our physicians are burning out, but with a shortage of qualified providers looming, the demands of on-call will not lessen anytime soon. These issues are harder to deal with in the stretched thin independent practice, of course, but the reality is no one really likes getting up in the middle of the night to travel to a hospital. Nurses and mid-levels experience the same challenges and certainly, residents have a brutal on-call schedule.
Health Leaders Media describes the current situation from a doctor's perspective:
"In the past, when a colleague called a fellow physician with a patient who needed that physician's expertise because of an emergency, the response from the other end of the phone was usually, "How soon do you want me there?" Today, the response is far more likely to be sullenness, resentment, perhaps even overt anger, often directed at their fellow physician, or even a refusal to care for the patient. Every time this happens in your community, it undermines collegiality of the medical staff, creates an EMTALA compliance risk, and drives a deeper wedge between physicians and your hospital."
The increasing complexities of the business of medicine have contributed to fewer physicians willing to take voluntary call. Becker's reports that the cost of on-call for hospitals by region varies from $125 to $750 per day for primary care. But orthopedists can receive $1,200 and the average rate is higher for neurosurgeons and interventional cardiologists. Hospitals can struggle to manage ER and trauma call panel requirements. Becker's says the average on-call pay expenditures increased from $3.2 million in 2012 to $4.5 million in 2013; those numbers are obviously, much higher today.
What is the answer to the high human and financial costs of on-call coverage. How could telemedicine technology lessen the burdens felt by independent and hospital-employed providers?
How Telemedicine Improves On Call
"Telemedicine fills in these gaps. We have already seen it in the hospitals where we work: Patients demand physician care for their treatment, and this is an excellent way to provide them with the care they deserve."
Telemedicine can help ease the strain of on-call requirements. Having a virtual visit with a patient means that doctors may not have to leave home in the middle of the night. Doctors can consult via telephone without the requirement to be at the hospital. These visits can be reimbursed, which means that hospitals can recoup some of the perks they've used to entice doctors into providing the coverage. Telehealth is particularly effective for locations that experience a shortage of providers. If you're the only doctor in town, what how do you handle call coverage? Telemedicine can extend clinical partnerships to give doctors a better quality of life.
Today, doctors, nurses, and mid-levels can sit in front of a laptop, desktop, or even their smartphone and connect with several telemedicine networks to help patients and other clinical facilities get the help they need. Doctors no longer need to be professional traveling night owls. Telemedicine can help these doctors cover multiple facilities quickly and potentially eliminate costly ER visits or the doctor's late-night trip to a remote clinical facility.
When enabled by telemedicine, hospitals and medical practices can virtually eliminate the assumptions that on-call will be very expensive or very hard on the clinical staffer.
OrthoLive offers call coverage for orthopedic providers. We can improve the work/life balance of your clinical staff, cut costs, while still helping you respond quickly to your patient needs. Contact us to find out how we can help.