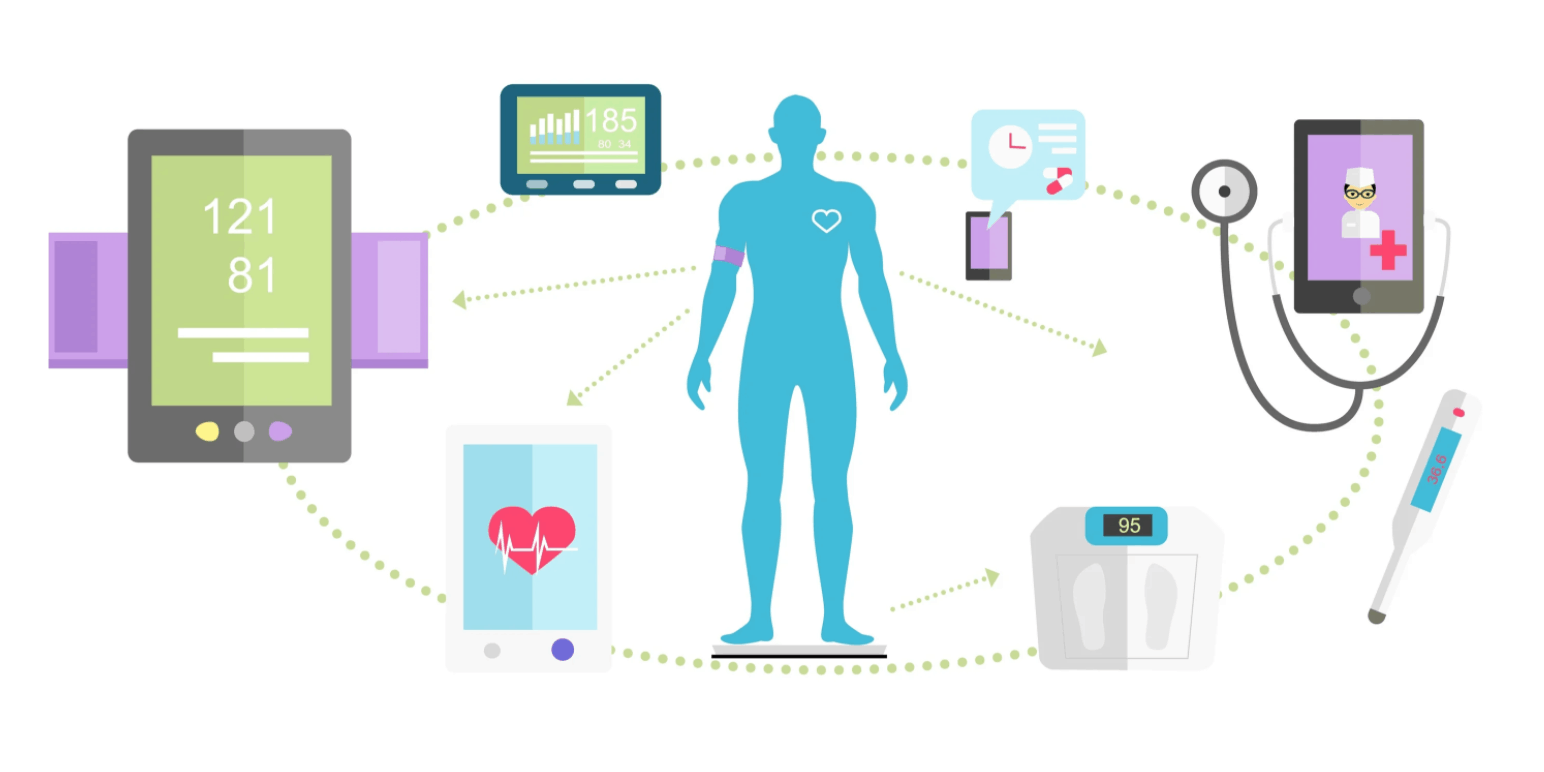 The market for telehealth, which are digital tools that allow virtual online communication between a clinician and patient, is booming.
Consumer satisfaction with these tools is high; doctors document improved efficiencies including reduced overhead and improved patient outcomes. Why is it, then, that so many doctors say they are reluctant to even try telehealth in their practice?
This article will look at physician reluctance to technology change and how to overcome it to reap the benefits of telemedicine.
Understanding Physician Reluctance Toward Telemedicine
Last year, Deloitte released their survey on the end-users in healthcare. The Deloitte 2018 Surveys of U.S. Health Care Consumers and Physicians sought to quantify attitudes toward virtual technology and healthcare in general. The survey found that, while 90% of the doctors surveyed see value in virtual care, only 14% have adopted these tools into their practice. The physicians studied report that they do see the proof that telemedicine is patient-centric. They note the following benefits of telehealth technologies:
66% of the doctors surveyed say telehealth improves patient access to necessary medical care.
52% understand it improves patient satisfaction.
45% say telehealth improves the connection between caregivers and patients.
Of those surveyed, 18% say they are going to add a telehealth service line in the next two years. However, of the doctors currently that have access to telemedicine tools, only one-third actually use them.
These are startling findings that seem to go beyond the typical reluctance of the telehealth rollout. We know that telehealth adoption has been stymied by a number of issues, including:
Complex state licensure requirements.
Reimbursement challenges.
The cost of hospital-based telehealth tools.
Yet, there are signs that the government is moving quickly to increase reimbursement. A host of new telehealth tools, like OrthoLive, operate under software-as-a-service model, making the technology much more affordable. Finally, interstate licensure compacts are expanding; allowing expedited credentialing across state lines.
Currently, the Deloitte study points out that 23% of our patients have used telehealth but another 57% report they'd like to try these tools in the future.
So, what's really the problem here?
Results of the Deloitte Survey
"Virtual care programs will likely become increasingly important to health systems that want to retain and attract customers, consumers, employers, and health insurers – who will likely demand more connected, coordinated, and convenient care. No longer a futuristic idea, virtual care has the potential to transform care delivery by meeting consumers where they are, through multiple channels."
Deloitte 2018 Surveys of U.S. Health Care Consumers and Physicians
Today's healthcare market increasingly supports new technology-fueled models for care delivery. It couldn't come at a better time; our healthcare delivery net has been stretched thin from rural hospital closures, a shortage of clinical providers, and increasing costs of care delivery.
But the survey uncovered a number of attitudes toward telemedicine toward the technology in all its forms, including online patient portals, digital kiosk check-ins, remote patient monitoring, data integration with healthcare wearables, and of course, the virtual house call itself. The study documented physician reluctance in the following areas:
36% of doctors say they are worried about the potential for medical errors when using these tools.
35% simply say their resistance is based on the fact that their employer doesn't offer telehealth tools.
33% are worried about patient privacy and data security.
23% say their patients aren't interested in e-Health type tools.
22% said it doesn't fit their current workflows.
8% say they just "aren't interested."
5% say they "don't see the need."
11% simply reported "other."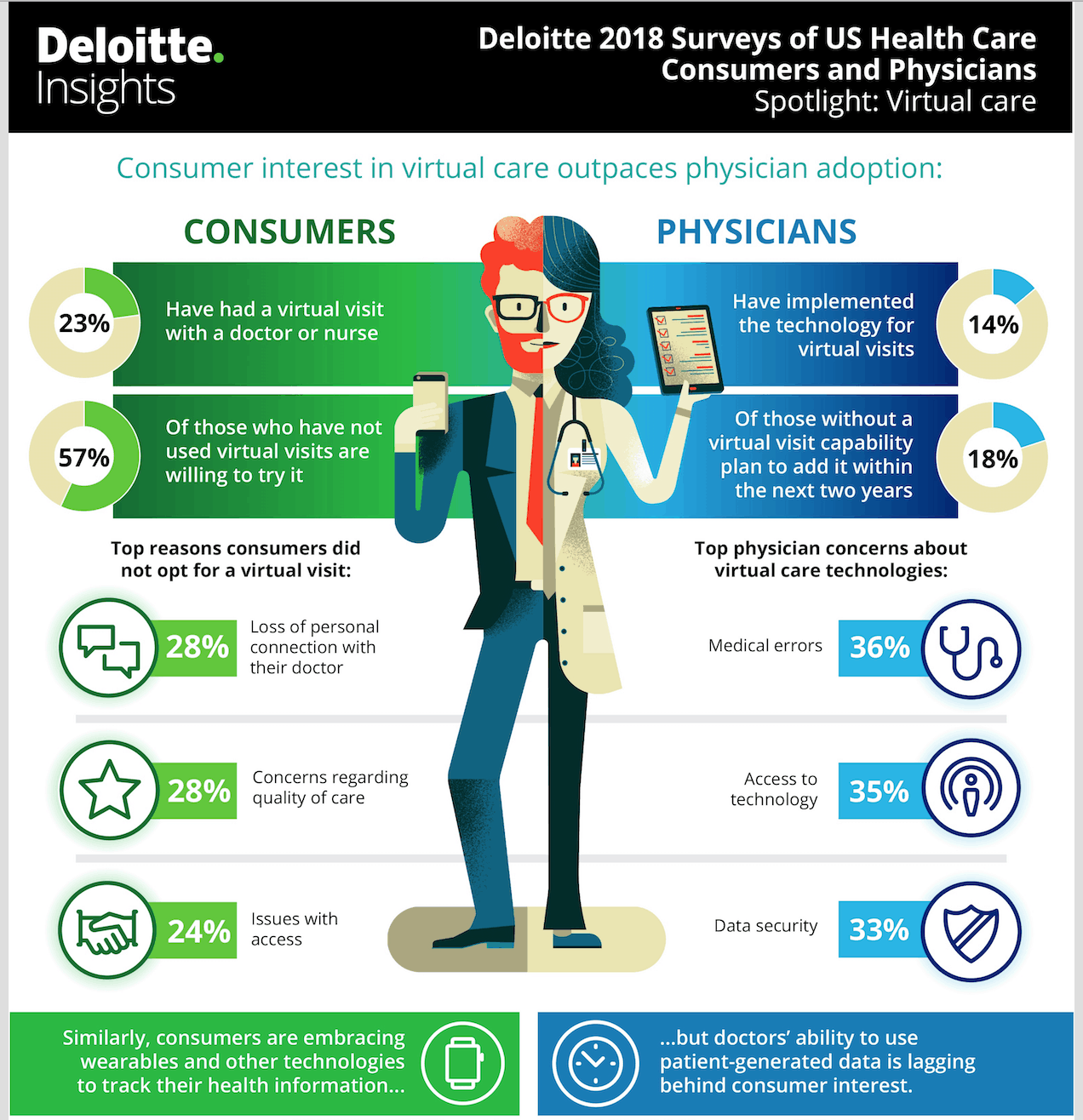 Physicians working in hospital settings typically have greater access to telehealth. We know from a recent Most Wired survey that:
Nationally, about 40% of all hospitals offer virtual telehealth visits.
74% of hospitals offer a secure, encrypted email service for patients and their families to communicate with clinical teams.
76% offer secured messaging on handheld digital devices to facilitate communication between patients and doctors.
Another 40% offer remote monitoring for patients in their homes.
Of the clinicians using telehealth today in a hospital setting, 69% say they expect to increase their use of virtual care technologies in the next year or two.
But somewhere between 15% to 33% of doctors whose organizations are not using telehealth today expect to be using these tools in the future.
The benefits of telehealth have been widely documented for the past five decades. They include:
With these benefits in mind, and with the necessity of widening our healthcare safety net in new ways an imperative, how can we overcome physician reluctance toward these technologies?
Overcoming Physician Reluctance Toward e-Health Tools
Practice managers and hospital administrators have the same problem on any technology rollout — how to create buy-in with the reluctant physician or other clinical staffer.
The Deloitte study illustrated a number of specific ways we can help even the most reluctant provider understand the bigger forces at work when consider telehealth adoption. The study recommended the following approaches:
Include physicians and staff in early and continued discussions about why telehealth is the new imperative for cost-effective and high quality care delivery.
Discuss the issues that virtual care can solve over other delivery mechanisms.
These teams should be involved in vendor selection, workflow redesign, and technology rollout.
Virtual care should become systematized, with quality benchmarks baked into every workflow, just like traditional care delivery models.
Telehealth requires a suspension or revision of workflows drummed into the provider since medical school. But it's clear now that telemedicine is the workflow of the future; current pressures on the medical profession and increasing consumer demand will require clinicians in every specialty to rethink how care is delivered.
OrthoLive can help your orthopedic practice adopt new telehealth workflows with our custom-designed, secure, and state-of-the-art orthopedic telemedicine application. Start the conversation to find out more today.