How do the major insurance carriers handle reimbursement for telehealth these days? As of October 2019, 42 states and the District of Columbia require commercial insurance carriers to cover telehealth visits in the same way they cover other medical care. However, each state varies in how they require payers to reimburse for these services.
Have private insurance carriers fully embraced telehealth, a service that by all accounts seems to be increasing in the United States?
Private Payers and Telehealth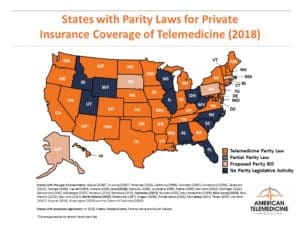 According to the Coalition to Transform Advanced Care (C-TAC), 95% of top employers in the U.S. now offer telemedicine coverage in their health benefits package. Insurers now recognize that telemedicine reduces costs by offering an alternative to costly emergency room treatment. Employers can mitigate rising health insurance premiums by offering a lower cost telehealth visit to their employees. By all accounts, these costs are considerable.
Mercer's National Survey of Employer-Sponsored Health Plans 2019, reported that the average total healthcare benefit cost by the employee is more than $13,000. 2019 was the eighth consecutive year of cost increases in the U.S. But utilization of these services is low, with only about 9% of the national workforce using these tools.
However, Inside Digital Health says, "Many payers are viewing telehealth as an effective, and oftentimes preferred, the first line of defense for a variety of ailments." The article predicts that insurance carriers will improve their provider collaborations to broaden telehealth coverage in the following ways:
Allow in-network providers to enroll in health plan sponsored telehealth services to connect virtually with their patients.
Offer telehealth as a care coordination tool to connect members, primary care and specialty providers, and other caregivers.
Use telehealth as a tool to strengthen the consultative relationships between primary care and specialty network providers.
Insurance carriers typically offer telemedicine via an external third-party vendor who offers an infrastructure combining technology with a network of clinical providers trained to offer virtual care. In other cases, the carrier uses its existing network of providers but offers them third-party vendor technology to provide telehealth services.
But in all cases, private payer reimbursement of telehealth services is heavily impacted by insurance company policies, but also by state and federal laws.
State Laws and Insurance Reimbursement for Telehealth
Currently, the American Telemedicine Association's (ATA) State Policy Resource Center has the most up-to-date analysis of state laws governing private insurance coverage of telehealth. Law firm Foley and Lardner analyzed the available data and found, "Other limitations on telehealth commercial reimbursement continue to exist in some states, but the trend is toward favorable treatment for telehealth."
Typically, telehealth laws require private health insurers to cover services provided via telehealth at the same rates as for an in-person visit. This type of legislation is called telehealth parity laws. However, it is as important to note that these laws do not require health plans to offer new service lines or specialties, and the services covered in the enrollee's member benefits package remains the same. These laws also typically do not require a health plan to offer identical coverage to all members; insurers can still individualize coverage by member or by employer plan. Telehealth parity laws should not prevent healthcare providers and insurance carriers from conducting reimbursement rates and they should not eliminate opportunities to cut costs.
Foley and Lardner point out, "Nor are payment parity laws intended to prohibit health plans and providers from the freedom to develop and enter into at-risk, capitated or shared savings contracts, all of which are conducive to the benefits offered by telehealth."
Some states require that the patient relationship be established before covering a telehealth visit. Some laws limit the types of reimbursable service to just a face-to-face visit, but not remote health monitoring. Many laws seek to protect patients from cost-shifting, which is the practice of imposing different deductibles, co-pays, or maximum benefit caps for virtual visits that is different from in-person treatment.
State laws governing telehealth can have a dampening effect on usage of these tools or, according to Foley and Lardner, "This could trigger growth in companies that create patient apps or data-driven interfaces, all of which are part of the virtual care services enterprise."
Which of the Private Payers Cover Telehealth?
Insurance carriers seem to be paying attention to consumer interest in telehealth. Today, the largest commercial payers, including Aetna, BCBS, Cigna, and United Healthcare cover telemedicine. Reimbursement rates vary by policy, and doctors considering offering a telemedicine option to patients should call their payers to ask about telehealth reimbursement before introducing the service line. When calling the individual carrier, ask these important qualifying questions:
Which HCPCS and CPT codes apply to telemedicine reimbursement.
Do you need a GT modifier for reimbursement?
Are there location restrictions by patient or provider?
Does the reimbursement rate for telemedicine match the rate for an in-person visit?
Which providers are eligible for reimbursement (MD, NP, PA)?
Are there any specific details that need to be documented for reimbursement?
In the same way you verify any patient coverage, the telemedicine visit, which is policy-dependent, will need to be confirmed. Your billing team will need to be trained to comply with these rules.
The Future of Telehealth Reimbursement
Telehealth is projected to be a $36 billion industry this year. This growth is in part due to the increasing necessity to lower the cost of providing care. Healthcare providers, consumer organizations, businesses, and insurance providers all understand the urgency of driving better access to high-quality but low-cost care. America's Health Insurance Plans (AHIP) says that telehealth can help our overburdened health care system in the following ways:
Enhance engagement between providers and patients.
Improve healthcare maintenance of chronic diseases.
Avoid costly and unnecessary acute care visits.
The organization says healthcare providers that use telehealth can save more than $6 billion annually. While the majority of health insurance providers offer coverage of these services, there are still barriers to leverage the power of these tools.
OrthoLive is a telehealth services provider offering healthcare providers an effective way to leverage the effectiveness of telemedicine tools. Talk with our team today about the options we offer to help you start your telehealth service line.