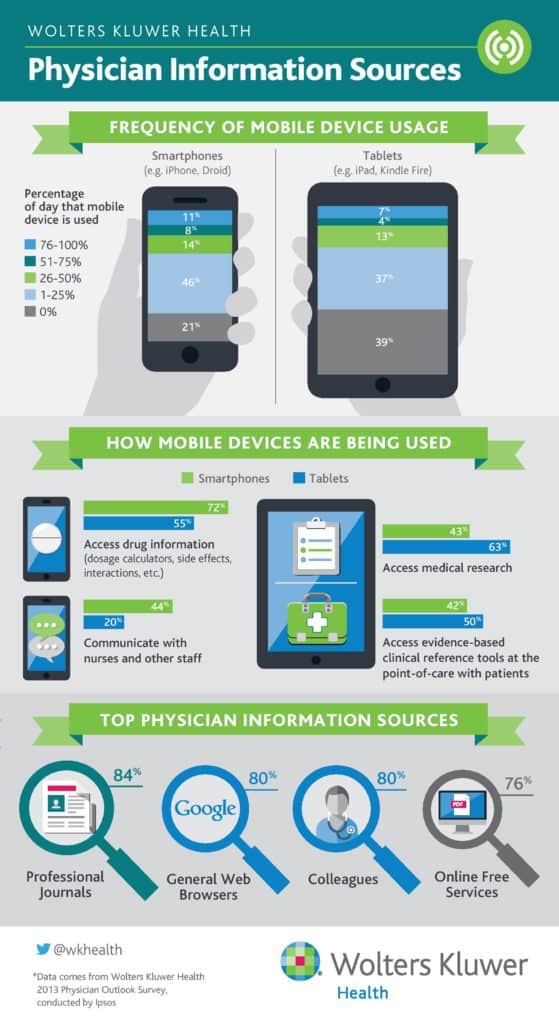 "Without a doubt, medicine is one of the disciplines that has been profoundly affected by the availability of mobile devices. This is evident in many surveys of HCPs (health care providers) that reveal a high ownership rate of these tools, which HCPs use in both clinical practice and education. Smartphones and tablets have even replaced desktop systems as the preferred computing devices for HCPs."
C. Lee Ventola
Pharmacy and Therapeutics
In 2017, the number of smartphone users in the U.S. stood at more than 220 million people. Pew reported in 2018 that 95% of all Americans own some kind of cellphone. This particular subset of our technology obsession stretches across age and income brackets; it doesn't matter if you're a college graduate, make less than $50,000 a year, live in an urban area, or are over the age of 65 – all of these categories of users exhibit widespread adoption of the cell phone.
As tools, our smartphones have the flexibility of apps with the convenience of mobile communication. Of course, doctors are not immune to these trends. For example:
ComputerWorld reports that smartphones are being increasingly utilized to improve doctor/patient communication. Patients are doing everything from confirming an appointment to actually seeing physicians via their personal device. E-health applications are rampant in the marketplace; studies show us that Millennial population, which will soon replace Baby Boomers as the largest demographic, are more than willing to conduct a virtual visit on their smartphone.
Let's look at how the smartphone and e-health applications are changing the practice of medicine in the U.S.
Practical Applications of E-Health in Your Practice
Most clinicians use the term e-health, mobile health, telemedicine, and telehealth interchangeably. For the purposes of this blog, we'll borrow the definition from the Journal of Medical Internet Research, which states:
E-health is an emerging field in the intersection of medical informatics, public health and business, referring to health services and information delivered or enhanced through the Internet and related technologies. In a broader sense, the term characterizes not only a technical development, but also a state-of-mind, a way of thinking, an attitude, and a commitment for networked, global thinking, to improve health care locally, regionally, and worldwide by using information and communication technology.
Despite the fact that e-health has been around for years, the service is still considered "emerging" because adoption has been slowed by reimbursement and credentialing roadblocks. However, in 2018, there are positive signs that these barriers are being raised.
The statistics tell us that our patients are increasingly interested in the convenience that an e-health application can offer. These patients are already well aware of how their smartphone brings a plethora of services directly to their fingertips. Most providers agree that the acceleration of e-health applications should occur.
In fact, consumer interest in e-health applications is near 80%, and clinicians around the country are capitalizing on these trends; currently, the majority of hospitals in the U.S. offer some sort of virtual care. A recent ComputerWorld article stated, "Hospitals are making significant investments in smartphone and secure mobile platforms to enable communications between clinicians and between them and patients."
In April, Spyglass Consulting Group released a survey of more than 100 clinical hospital providers and found that 90% of those surveyed suggest that medical applications using smartphones are "driving clinical transformation."
While hospitals clearly have the financial bandwidth to experiment with e-health applications, Wolters Kluwer Health released a survey that showed physicians in ambulatory clinics have begun using their smartphone or another handheld device to do everything from communicating with staff to accessing medical research or even checking on drug interactions before prescribing.
Source: HIT Consultant
But how, specifically, can our mobile devices improve care delivery in the medical practice? An article in Advances in Medical Education and Practice defines some of the medical applications for e-health technology:
Remote home monitoring
Direct patient consultation
Patient education
Specialist consultation
Continuing education
Transport
Mentoring
Proctored care/surgical procedures
Tele-radiology
Imaging
Advanced home health
In prior blogs, we've recounted numerous studies that show e-health being used in many of these areas. From the VA expanding their e-health offering across state lines to the Cleveland Clinic online second opinion service, some of the biggest names in healthcare are capitalizing on consumer adoption of smartphone technology.
Today, we have everything from e-orthopedics (OrthoLive) to e-cardiology, these technologies are changing medicine by bringing the house call to a patient's smartphone. E-health applications are personalized ways to improve the clinical care delivery mechanisms by
The Future of E-Health in Your Practice
Last year, the global market for e-health applications stood at $6 billion annually. It is within this unprecedented environment of growth that e-health software as a service (SaaS) applications like OrthoLive are being offered. OrthoLive has democratized e-health software, providing orthopedics practices with the same service delivery mechanism that hospitals have been using for years.
The OrthoLive e-health app is a secure, HIPAA compliant way to improve access to patients on the devices they use every day. From registration to billing, one application can handle every step with the speed and ease of your Internet connection. From pre- and post-surgical consults and e-prescribing to simple post-surgical rechecks, the OrthoLive application provides an affordable alternative to the traditional orthopedics visit. It allows doctors in even the smallest practices to compete with some of the largest health systems in the country by providing patients with the services they're increasingly requesting.
If you'd like to see what the OrthoLive smartphone app looks like, click here. Or, to schedule a live demo, contact us.