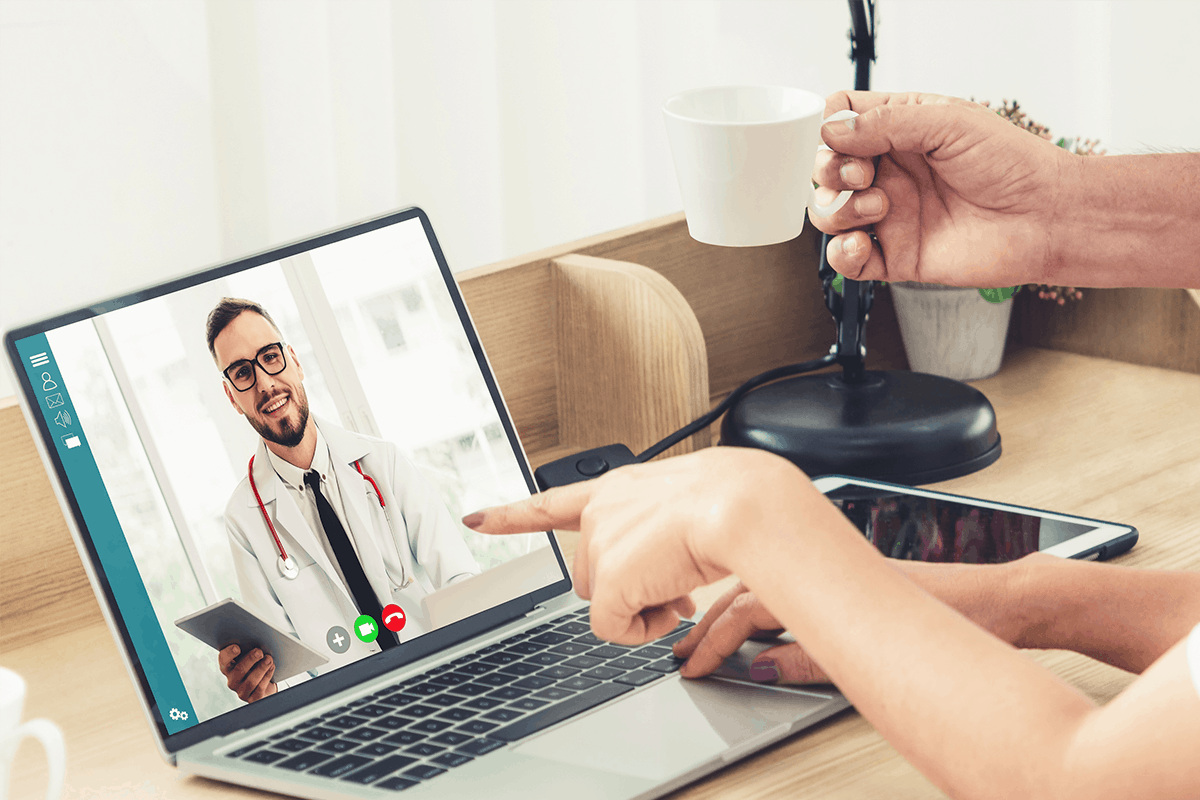 Telemedicine as a means to deliver care will only continue to increase in popularity in the coming years, and just like face-to-face bedside manner counts for patients, so does virtual webside manner. So, how can you improve your telemedicine webside manner?
According to McKinsey, telehealth usage in the U.S. exploded from 11% of patient encounters pre-COVID to 46% today. With patients recognizing the convenience of the virtual visit, and doctors making the necessary changes to their workflows to accommodate this new revenue stream, it seems telemedicine will stick around long after the pandemic is over.
However, in the same way tone can be lost in an email or text, communication can be more difficult when there is a screen between a doctor and their patient. Here are some ways you can improve patient encounters when they're conducted over the Internet.
What is Webside Manner?
Like bedside manner, webside manner defines how doctors and clinical staff interact wth a patient that is anywhere but in your office. Since CMS eliminated the originating site restrictions, clinicians can see patients in their homes. The added benefit, of course, is that these clinicians can also provide telemedicine from anywhere. To ensure the best patient experience, the clinician must follow a few rules to ensure their practice mission of care and caring for their customers remains at the highest standard of care.
Doctors are trained in bedside manner in the traditional clinical setting. Interestingly, some forward-thinking providers, like Kaiser Permanente, began training clinicians in webside manner well before the 2020 COVID-19 pandemic. Prior studies had linked higher patient satisfaction scores to improved bedside manner. The research data showed there is an impact on a variety of clinical outcomes, from diabetes to asthma and obesity.  
This, coupled with the recent increase in telemedicine usage, argues for increasing attention toward the equipment and etiquette used during the "virtual house call." Improving your techniques when using these tools will help engage remote patients while improving outcomes and the satisfaction of your valued customers.
Telemedicine—Before the Visit
What Equipment Will You Need for Telemedicine? 
Lighting and sound:

The lighting and sound you use during the telemedicine visit is critical. A desktop computer with two screens is ideal. Screen one will hold your practice EMR so you can take notes in real-time like you would in a traditional encounter. Screen two will serve to connect you and the patient. Use small but powerful headphones to help decrease ambient noises, like your children, if you're conducting the visit from home, or, your practice staff at the office. However, none of these tools matter if you don't have proper lighting during the visit. Natural light is good for skin tone, but having a window behind you will make you look like a dark blur. Select a good LED light for behind the camera as well as overheads or other lighting to highlight your facial expression clearly.
Connectivity:

High-speed Internet is essential. Your Internet connection, camera resolution, and audio will all affect the quality of the visit. Check your wifi and turn off any unused programs that will eat bandwidth and threaten your telemedicine connection.

Not only will other programs consume bandwidth and lessen the quality of your telemedicine video visit, you run the risk of pop-ups that are both distracting and inappropriate.
Location:

Find an out of the way location to set up for your telemedicine visits and avoid staff walk-throughs to lessen distractions for you and the patient. A cluttered desk may not play well with your patients. Try to view your surroundings from the perspective of the patient. Pay attention to what is behind you within the camera's view and set up your office to provide your patients with a clean, crisp, professional impression.
Camera Angles:

Leverage good camera angles by placing a strong LED light behind your screens. It's a good idea to avoid on-the-go visits from your phone unless an absolute necessity. If you're using a phone to communicate during the telemedicine visit, it's common to forget camera angles and give the patient a good view of the inside of your nostrils. Avoid this by placing your phone across from you. Look into the camera, not down at it to avoid an up the nose shot.
Of course, just like any clinical encounter, review the patient chart before the appointment and be prepared for the visit by experimenting with your set up.
Telemedicine—During the Visit
How should you change your professional demeanor in the virtual forum?
Attire:

Wear professional attire. In a virtual visit, the white coat, our emblem of the healthcare profession, becomes even more important. One of the benefits for clinical teams is that telemedicine can be provided from your home. Resist the urge to do anything but dress professionally for the encounter in the same way you would for a traditional visit (aka, no T-shirts).
Demeanor:

Begin the visit by greeting the patient by name. Focus on the camera, which will feel awkward at first. But by looking into the camera lens, you will achieve direct eye contact with the patient, increasing trust and authority.

Maintaining eye contact with a patient can be more challenging with a screen between you. However, with practice, you can use the telemedicine visit to engage the patient in the same way you would during an office encounter. Just like during in-clinic visits, you can glance at the patient chart (which will be on a second monitor), but train yourself to glance at the camera periodically so the patient remains in direct eye contact with you through the screen.

Communication:

Body language and active listing becomes as important as accommodating transmission delays when communication with patients during a telemedicine visit. Make sure your body language indicates you are listening. Lean forward into the camera and don't cross your arms or lean back in your chair.

Use nonverbal cues to indicate you are listening. If you speak the camera will naturally pan back to you during a video call. Instead, try nodding your head frequently to let the patient know you hear and understand them.

Maintain your posture and monitor your hand gestures to avoid overly distracting the patient. Speak slowly and clearly to allow for any transmission delays. Avoid any ambient behaviors such as clicking a pen or even tapping your toe; you would be surprised at how much background detail a good audio device can pick up on.
Some of the best phrases to use during the telemedicine visit include:
Set the ground rules for the visit by letting the patient know you may be typing during the visit. You can say something like, "I want to capture your concerns accurately into your patient record during this visit so I will be typing as we talk today."

At the beginning of the visit, instead of saying, "How can I help you today?" try for a tone that acknowledges the telemedicine visit format and establishes empathy by saying, "Thank you for welcoming me into your home today."

To delve deeper into a patient concern, try, "I hear that you're concerned about this problem. Can you tell me more about it?"

You can end the telemedicine visit by again acknowledging the new format, stating, "I realize video conferencing may be new to you. Thank you for giving it a try. Have I met all of your concerns today?"
Telemedicine—Concluding the Visit
How should you wrap up the telemedicine visit?

Share next steps:

To wrap up the telemedicine visit, over-communicate by sharing the next steps, reiterate the treatment plan, and ask if there are any last questions. This ensures the patient feels cared for and not rushed, even though virtual visits are usually less lengthy than the traditional encounter.
The Benefits of Webside Manner
The benefits of honing your webside manner during a telemedicine visit are clear; you will engage and empower your patients while giving them higher quality care and caring. The studies show the clinical benefits, but patient satisfaction will also improve. 
MGMA says, "The pandemic has led to isolation and uncertainty, while increasing patients' needs for compassion and empathy. A little virtual handholding can ensure patients receive the best care possible."
OrthoLive offers an orthopedic-specific telemedicine platform. Our HIPAA-compliant, secure, and low-cost solution was designed by an orthopedic surgeon and is in-use around the country with practices just like yours. Contact us today for a demonstration of our service.